Coon Rapids Emergency Veterinarian Service
Did your pet have an accident or are they suffering from obvious trauma, acting very aggressively, or suddenly exhibiting wild changes in their behavior? They may need immediate attention, especially if their physical appearance seems normal.
Please call (763) 290-0830 as soon as possible so our doctors can examine your pet.
We are open Monday through Thursday from 7 AM – 6 PM and Friday from 8 AM – 6 PM.
We're there when you need us most. In the case of an accident or other obvious signs of distress, please don't hesitate to call us during our business hours. We'll prepare an examination room for your arrival and give your pet immediate attention.
With X-rays and an onsite laboratory, we'll be able to quickly diagnose and treat your pet, even if it means recommending another facility.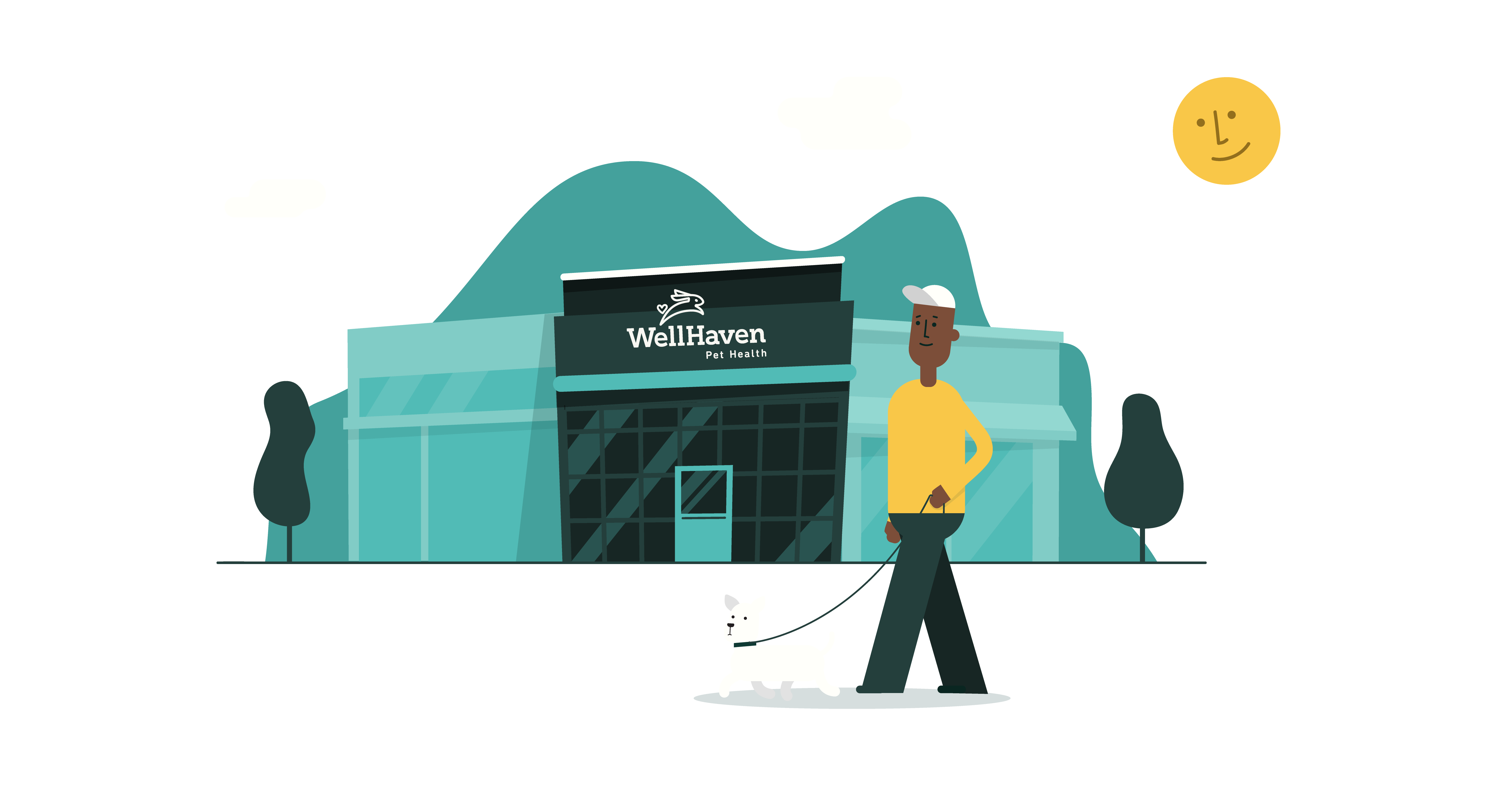 Are you in need of an emergency vet? Call us immediately.
Unfortunately, accidents never let us know when they're going to occur. Whether your dog gets out of the backyard and runs into traffic or your cat is just a little too curious about the chemicals under the sink, when something bad does happen, time is of the essence.
When you find your pet is suffering, call WellHaven Pet Health Coon Rapids so we can help them through this difficult time.
During our normal hours of operation, we will take your information and find out more about what is happening with your pet. We will let you know when to bring your pet into the clinic, where we have the latest radiology (X-ray) technology and other internal medicine equipment to quickly examine your pet.
With an in-house lab and a full-service surgical suite, we can quickly diagnose your pet and begin treatment. An onsite pharmacy means you won't have to travel to another location to get the medication or pain management products your pet needs to get better.
As a leading Coon Rapids veterinary hospital, we're able to deliver the highest level of health care to your pets.
Compassionate Care for Difficult Times
Even when you take all of the precautions you can, such as annual examinations, monthly treatments for pests, and dental care, no amount of preventive care can prepare you or your pet for an accident. Sometimes, life can throw you a curveball when it comes to your four-legged, furry family member. Fortunately, the compassionate doctors and staff at the Coon Rapids WellHaven are here to help.
We've seen an increase in the need for urgent care in Coon Rapids, that's why we're expanding our emergency care hours. If you need emergency care, please call (763) 290-0830 to see if we're accepting urgent care patients at that time. If urgent care is available, we'll schedule a time to see your pet that day (if possible) and get preliminary information.
Our doctors have a combined 16 years of experience with urgent care, preventive services, and other veterinary practices. As pet owners themselves, they understand what an important part pets play in our lives and will treat your pets as if they were their own.
If you ever feel that your pet needs emergency treatment, do not hesitate to call us immediately. Please call before coming in so that a team member can advise you on your particular emergency.
During regular business hours, we're able to assist with urgent matters to your pet's health. Equipped with the latest technology, an in-house laboratory, and a world-class surgical suite, we're able to quickly diagnose and treat a wide variety of injuries and illnesses.
As the leading veterinarian in Coon Rapids MN, we take your pet's health seriously.
Hours
Mon-Thurs: 7 AM – 6 PM
Fri: 8 AM – 6 PM
Sat & Sun: Closed
When to seek out Coon Rapids Urgent Vet Care Services
It can be a stressful situation when you find your pet in need of immediate emergency or urgent care or if you're unsure what you should be doing to help. Please don't hesitate to call the Coon Rapids WellHaven for guidance in these difficult times.
Emergency Care

Whether your pet is in need of immediate emergency care or emergent care (when a situation can worsen over a short period of time), acting quickly can make all the difference in the world. Please call (763) 290-0830 at once to ensure we can see you as early as possible if your pet is experiencing any of the following issues. Please Note we are not currently seeing walk-in patients at this time.

Quills
Foxtails
Vomiting
Diarrhea
Toxicities
Marijuana ingestions
Lacerations
Abscesses
Breathing issues
Seizures
General pain
Foreign body ingestions (gastrointestinal blockages)
Laboring pets
Laboring issues
And many other issues

Referrals

Although we are a fully outfitted veterinary hospital, there are times when we won't be able to see or treat your pet. In these cases, your pet will need to be seen by another clinic, hospital, or veterinary facility. If necessary, we will refer you and your pet to another doctor for the following circumstances:

Serious trauma, such as being hit by a car, falls of distance, or gunshot
Head or eye injuries
Irregular breathing, shortness of breath, prolonged or heavy panting
Heart disease or failure
Severe or sudden onset of pain
Blood loss
Broken bones
Exposure to toxins including rat poison and antifreeze
Hyper- or hypothermia (heatstroke or frostbite)
High fever
Serious burns
Cluster seizures or severe neurologic disease 
Coon Rapids Accepts Referral Urgent Care Patients
If you're an animal clinic that is unable to perform urgent care or offer emergency services, please consider sending your patients to the Coon Rapids WellHaven. When they call, make sure they tell us their primary care facility so we can get all of the necessary information from you before they arrive at our facility. We will also relay visit information back to you to ensure you have a complete history of your patients.
When to seek out Coon Rapids Urgent Vet Care Services
It can be a stressful situation when you find your pet in need of immediate emergency or urgent care or if you're unsure what you should be doing to help. Please don't hesitate to call the Coon Rapids WellHaven for guidance in these difficult times.
Whether your pet is in need of immediate emergency care or emergent care (when a situation can worsen over a short period of time), acting quickly can make all the difference in the world. Please call (763) 290-0830 at once to ensure we can see you as early as possible if your pet is experiencing any of the following issues.Please Note we are not currently seeing walk-in patients at this time.

Quills
Foxtails
Vomiting
Diarrhea
Toxicities
Marijuana ingestions
Lacerations
Abscesses
Breathing issues
Seizures
General pain
Foreign body ingestions (gastrointestinal blockages)
Laboring pets
Laboring issues
And many other issues

Referrals

Although we are a fully outfitted veterinary hospital, there are times when we won't be able to see or treat your pet. In these cases, your pet will need to be seen by another clinic, hospital, or veterinary facility. If necessary, we will refer you and your pet to another doctor for the following circumstances:

Serious trauma, such as being hit by a car, falls of distance, or gunshot
Head or eye injuries
Irregular breathing, shortness of breath, prolonged or heavy panting
Heart disease or failure
Severe or sudden onset of pain
Blood loss
Broken bones
Exposure to toxins including rat poison and antifreeze
Hyper- or hypothermia (heatstroke or frostbite)
High fever
Serious burns
Cluster seizures or severe neurologic disease